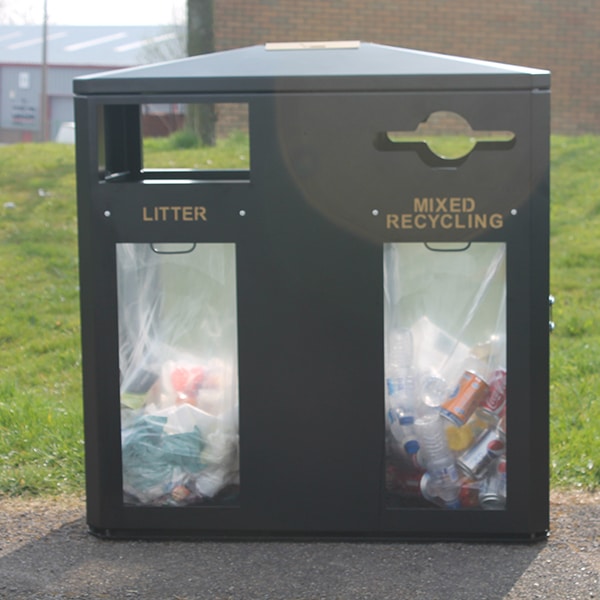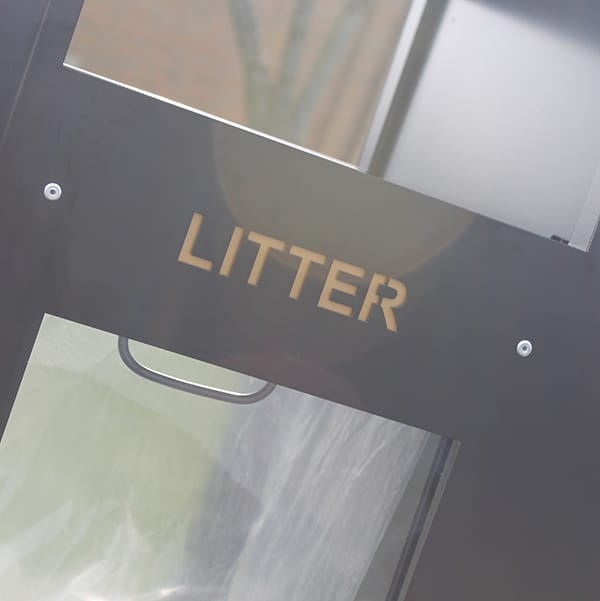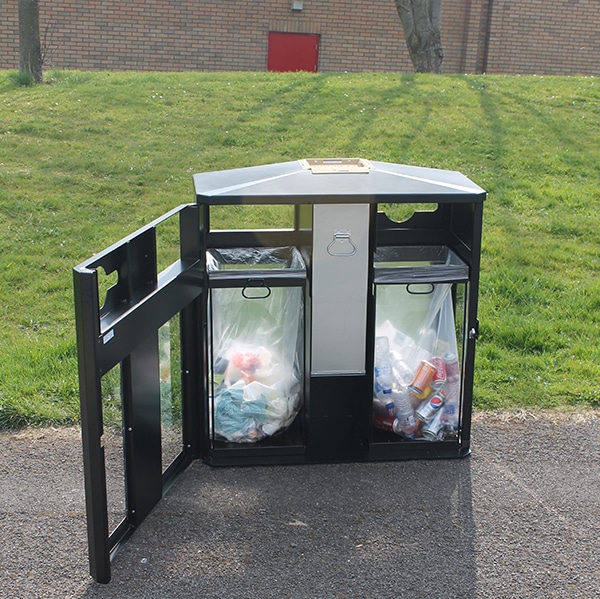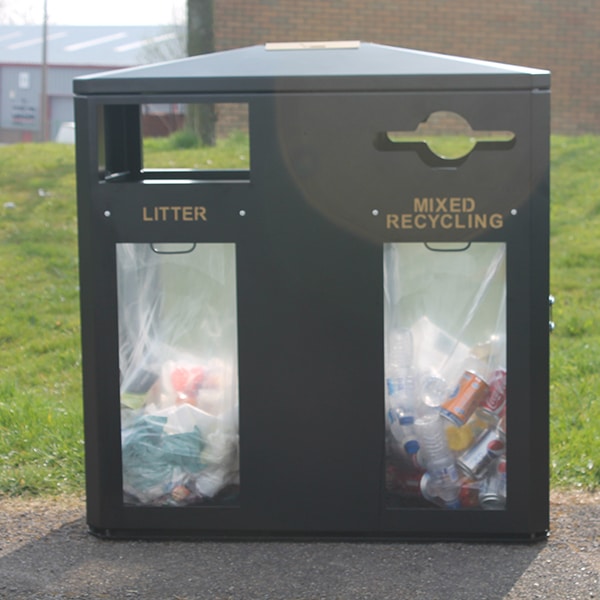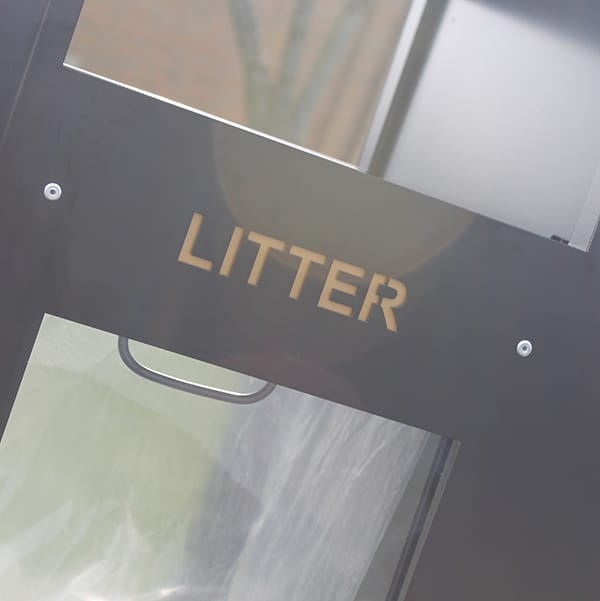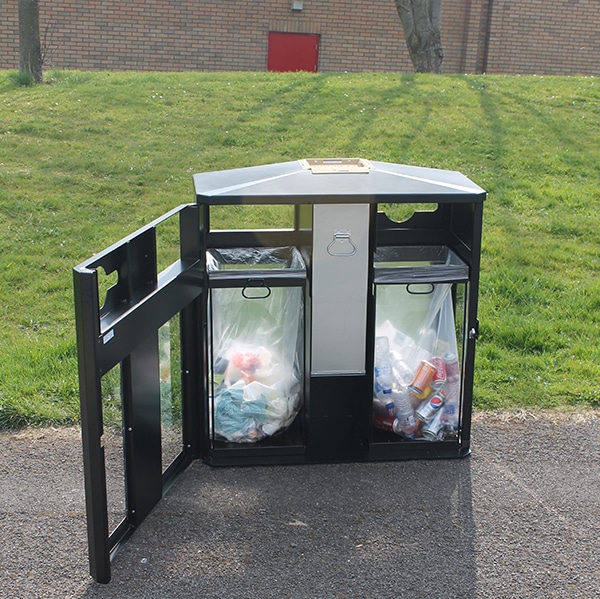 This See-Through Recycling & Smoking Bin is ideal for collecting litter and recycling in high security conscious areas such as outside airports and shopping centres.
This bin was originally purpose designed for a busy London airport that had encountered problems with fires breaking out due to cigarettes coming into contact with the litter that had been deposited and features a completely separate 'ashtray' compartment to eliminate this concern – access to which is controlled by reduced size cigarette holes (1.5 times the diameter of a cigarette) ensuring that only cigarettes can be deposited.
Two separate waste streams keep the other contents displayed for safety and security purposes.
This double recycling bin is manufactured from 2mm hot dipped galvanised steel, primed and powder coated in your choice of standard RAL colour, with a stainless steel rod hinge and slam lock as standard.
Internal litter deflectors ensure that all waste is directed into the two internal liners.
Transparent PETG panels are fitted to all sides of the bin.
Two apertures to the front and back maximise the 200 litre capacity of the unit.
Each compartment has the ability to collect 80 litres of waste and the bespoke ashtray compartment (fitted to the middle of the unit) has a capacity of 40 litres.
The ashtray is self-emptying and deposits into a separate, galvanised steel liner which sits on an internal shelf and is protected by full height partitions at each side.
This recycling bin gives a modern look and feel to airport terminals, car parks, shopping centres and other public spaces.
A pre-drilled base for ground fixing makes it convenient to site
It comes with a slam lock as standard, and can be opened using a universal T shaped budget lock key (provided).
The two internal L3 Galvanised Steel Liners feature handles on two sides to make removing and emptying a more convenient task. Unlike a standard galvanised steel liner, this one has been modified with a wire frame to the top and is fully transparent so that all the waste can be seen.
Once the bin has been emptied and the liners have been replaced, a gentle push on the door will lock it back in place.
The ashtray unit is self-emptying and deposits into a separate, central galvanised steel liner that sits on an internal shelf and is protected by full height partitions on each side. It is conveniently fitted with an exterior handle so that when the door is opened it can easily be emptied and replaced.
Shaped apertures can help the user identify what waste should be deposited, and optional laser cut or vinyl text can be added below
Ground fixing options are available as follows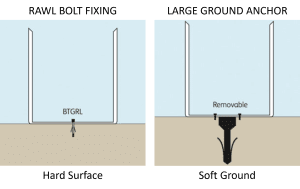 | Capacity | Height | Width | Depth | Weight |
| --- | --- | --- | --- | --- |
| 200 litres | 1020mm | 980mm | 466mm | 100kg |
The BOX range of litter bins is available in single, double or triple units, with a choice of standard or 'Eco' depths – made from galvanised steel with a painted finish. For examples of sizes and styles, use the search facility to search 'BOX' to see the full range, or view individual items via the following links..
The Box See-through Double, 200lt, Galvanised Steel Litter & Smoking Bin (Options Available)
Price Includes Mainland UK Delivery.
Please choose colour and other options below if applicable.

** Bulk Pricing Available ** See below for details, or contact us.
BULK PRICE DISCOUNT CALCULATED UPON ADDING TO CART
Bulk Price Saving:
£

0.00
- Current Product Total (Excluding Options):
£

980.00
+VAT (Delivery Included)
2
3
4
5 - 9
10 - 14
15 +

£

930.00

£

920.00

£

910.00

£

900.00

£

890.00

£

880.00
Lead time 6-10 weeks
Warranties
1 Year Parts & Labour Guarantee
10 Year Anti-Perforation Warranty