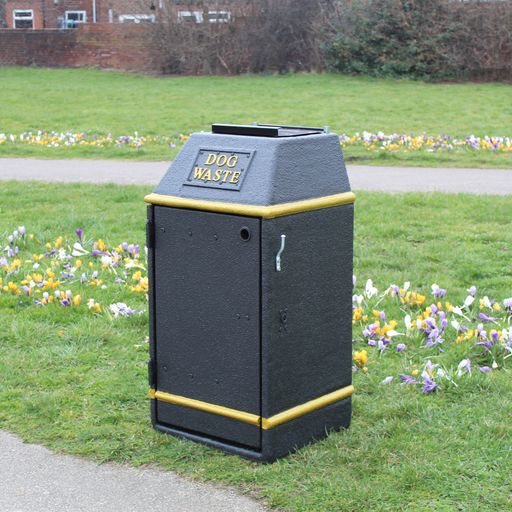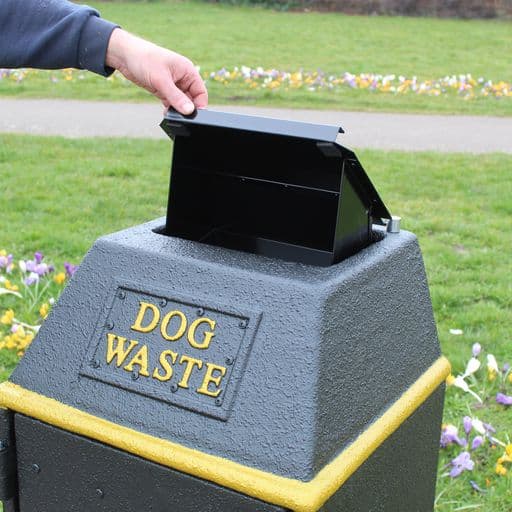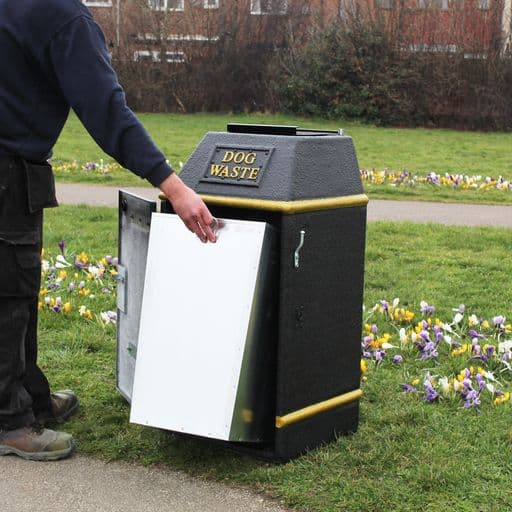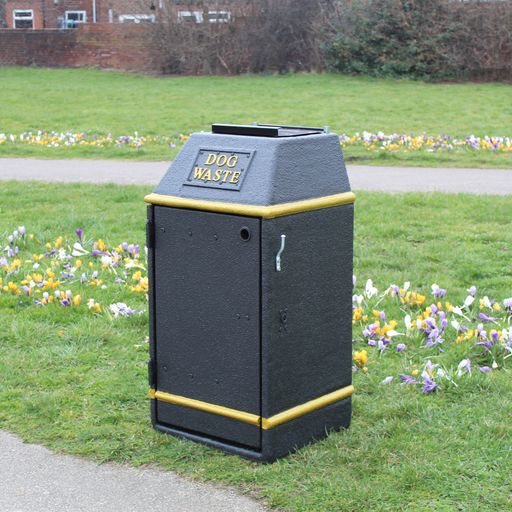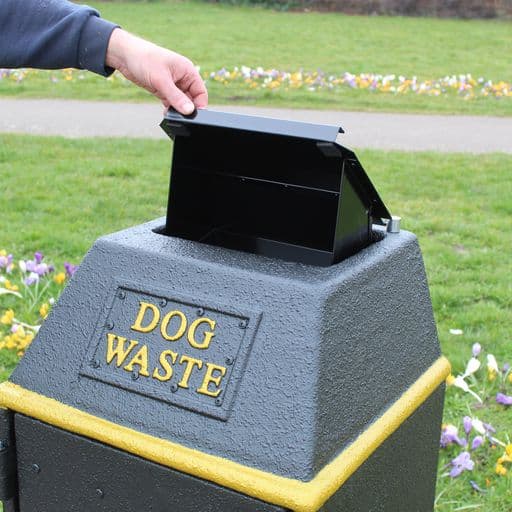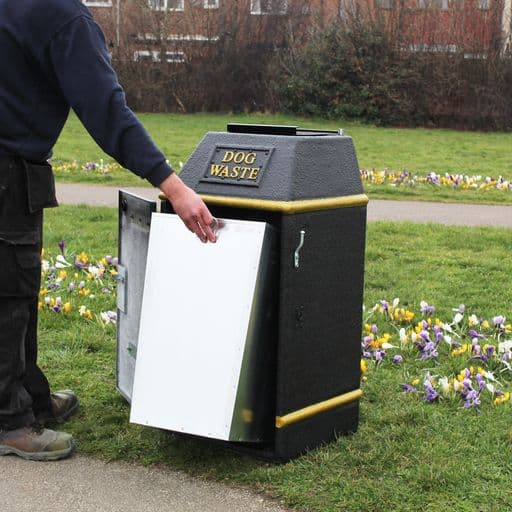 The Titanic 112 litre Chuted Dog Waste Bin
A large capacity dog waste collection unit with an internal chute system to ensure the waste is deposited correctly.
This bin is manufactured using a Glass Fibre Composite (GFC) shell which is ideally suited for street furniture due to its strength, durability, longevity and fire retardant qualities (glass fibre polyester resin).
Glass fibre composite is completely unaffected by extreme weather conditions and salt water, which allows the bin to be placed outdoors, including in coastal or roadside locations and remain intact for years.
GFC products offer substantial fire protection, conforming to BS 476 Part 7 and Part 6, fire rated at Class 1/0 Building Regulations. GFC has a low carbon footprint due to the longevity of the product.
The product pictures show off the optional Victoriana finish in black (which includes gold banding), but the standard body shell comes in your choice of 6 colours (Black, Dk Blue, Dk Green, Green, Goose Grey or Slate Grey), in a textured finish. Options are available for either either a Smooth or Victoriana (banded) finish.
This dog waste bin has pre-drilled holes for ground fixing – we recommend using Rawl bolts to fix the bin into the ground but other fixing options are available.
The WDB/112 features a budget lock as standard, simply unlock the front opening door using the universal key. This bin comes with a galvanised steel liner as standard. Once the liner is emptied, simply close and lock the door using the key.
This dog waste bin has a few optional extras available, including a dog lead hook which allows the user to secure their dog lead whilst disposing of their waste. A slam lock can also be fitted to replace the budget lock, this automatically locks when the door is closed.
Dimensions/ Specification
Height 1003mm, Width 483mm, Depth 483mm,
Capacity 112lt
Weight 36kg
Titanic,112lt, Chuted, Dog Waste Bin (Options Available)
Price Includes Mainland UK Delivery.
Please choose colour and other options below if applicable.

** Bulk Pricing Available ** See below for details, or contact us.
BULK PRICE DISCOUNT CALCULATED UPON ADDING TO CART
Bulk Price Saving:
£

0.00
- Current Product Total (Excluding Options):
£

560.00
+VAT (Delivery Included)
2
3
4
5 - 9
10 - 14
15 +

£

530.00

£

520.00

£

510.00

£

500.00

£

480.00

£

460.00
Lead time 3-6 weeks
Warranties