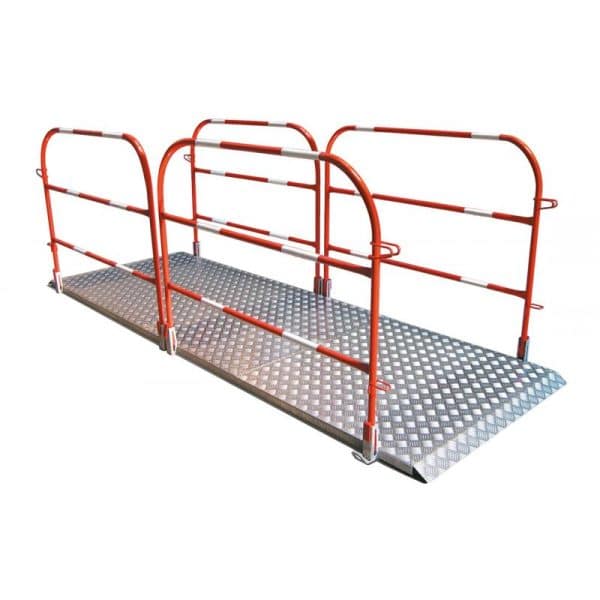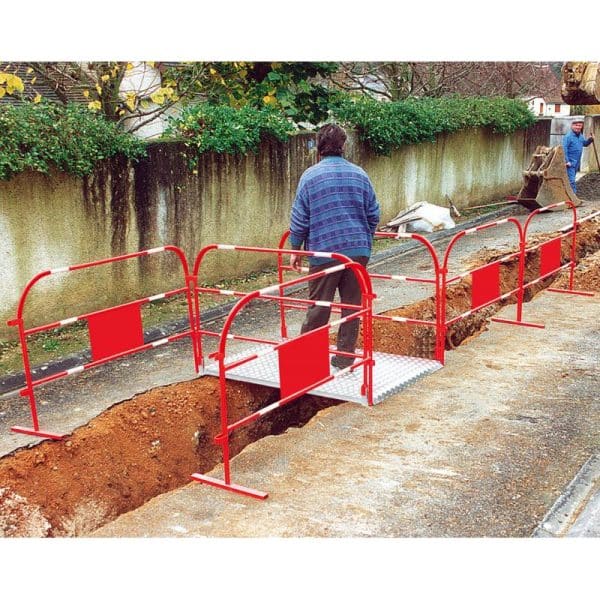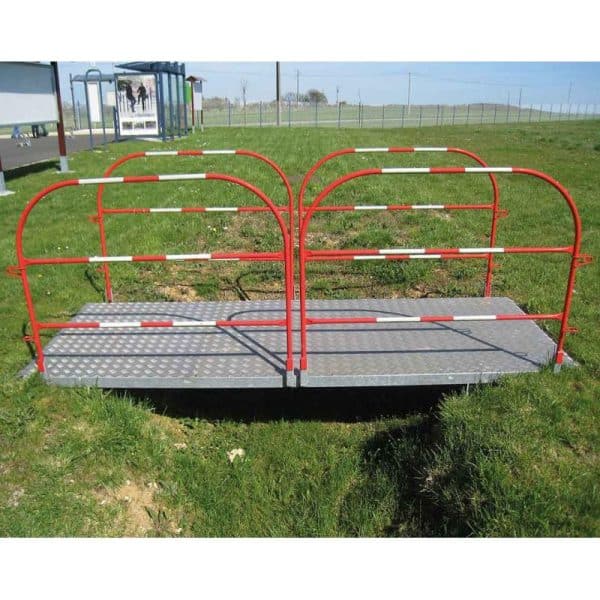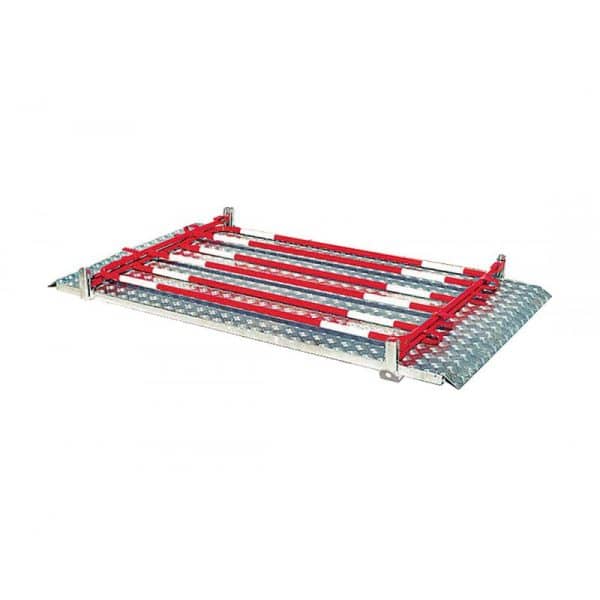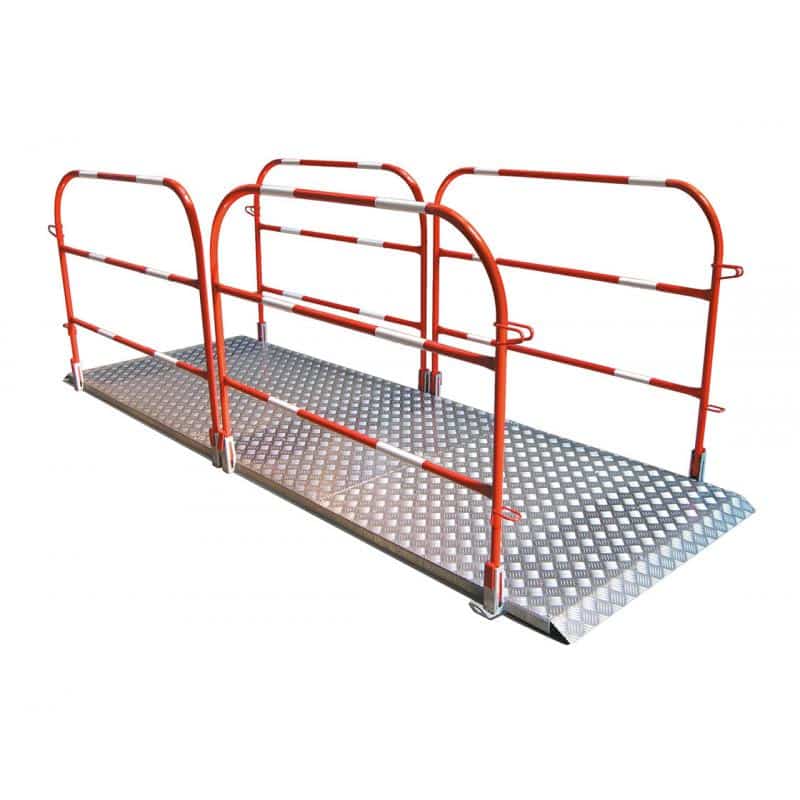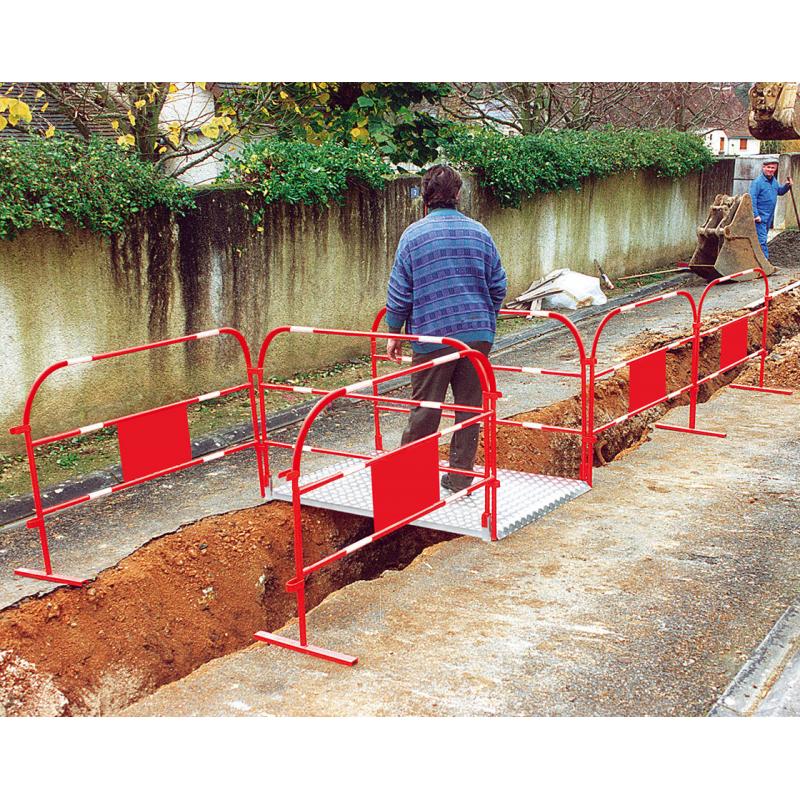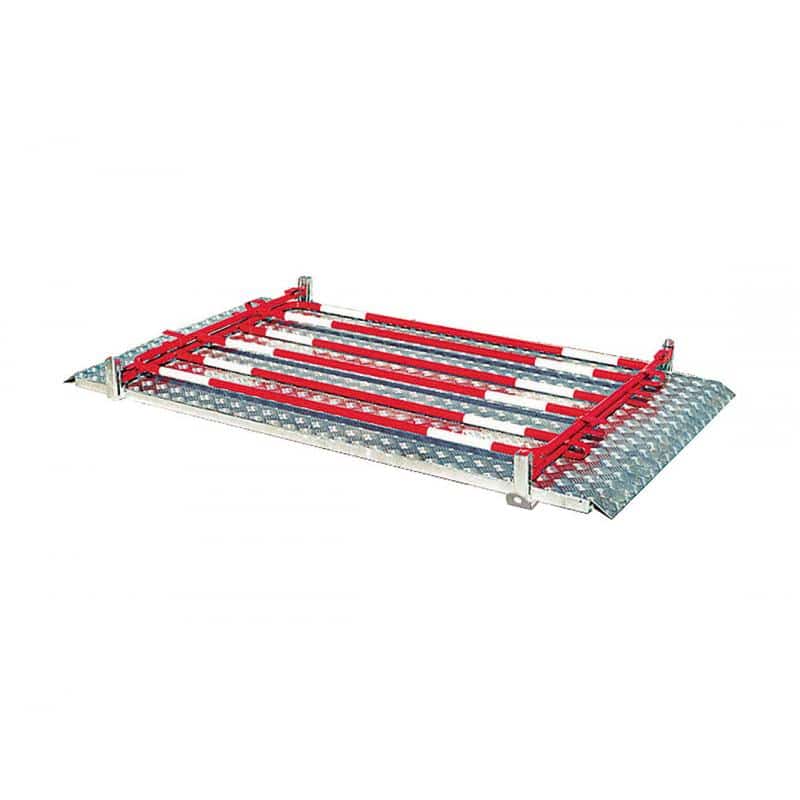 A site safety bridge made from a steel structure, featuring a guardrail and non-skid aluminium sheet walkway.
Available in 2 sizes

1982mm x 1000mm (weight limit 300kg) – Bridge weight 35kg
2982mm x 1000mm (weight limit 500kg) – Bridge weight 88kg

2 hinged guards that fold for transport (and fitted with hooks to link with steel site safety barrier).
Guardrails: red lacquered finish with 6 white reflective strips each.
Weight; 88kg
Non slip walking surface.
Fitted with lifting hooks.
QUANTITY DISCOUNTS – If ordering more than 5 items, please contact us for our best bulk-buy price!
Site Safety / Pedestrian Bridge, 2m or 3m lengths (Options Available)
Price Includes Mainland UK Delivery.
Please choose colour and other options below if applicable.

** Bulk Pricing Available ** See below for details, or contact us.
BULK PRICE DISCOUNT CALCULATED UPON ADDING TO CART
Bulk Price Saving:
£

0.00
- Current Product Total (Excluding Options):
£

550.00
+VAT (Delivery Included)
Lead time 2-6 weeks
Galvanised lead times are 2-3 weeks, with Galvanised and painted at 3-6 weeks
Procity – Manufacturing 
100% of steel, aluminium and packaging is recycleable
100% of production waste (oil, paint, etc…) is collected and processed by specialised waste disposal.
Whether zinc primed and painted or galvanized and painted, the paint quality of products is tested in terms of impact resistance, adhesion and paint thickness.
Procity hold the right to use the PEFC mark, certifying that any timber used in the manufacture of products comes from sustainably managed forests and controlled sources.
All products manufactured by Procity have a 5 year warranty* which includes..
The conformity and origin of raw materials
The precision of cuts, bends and assembly
The quality of the welds
The waterproofness of outdoor noticeboards
The quality of paint finish and their anti-UV resistance.

All products that have undergone a hot dip galvanising or anodising process have a 10 year warranty on corrosion. 

Phosphate treated and painted products have a 2 year warranty on corrosion.
Zinc primed & painted products have a 5 year warranty**
Since timber is a living material, the warranty of products containing wood is limited to 2 years.
* excludes saline environments (within 5km of maritime locations, besides heavily salted roads or other strongly corrosive environments…)
** where applicable – please contact us for a quote on upgrading from a Zinc primed and painted finish to galvanised and painted finish, for maximum corrosion warranty.