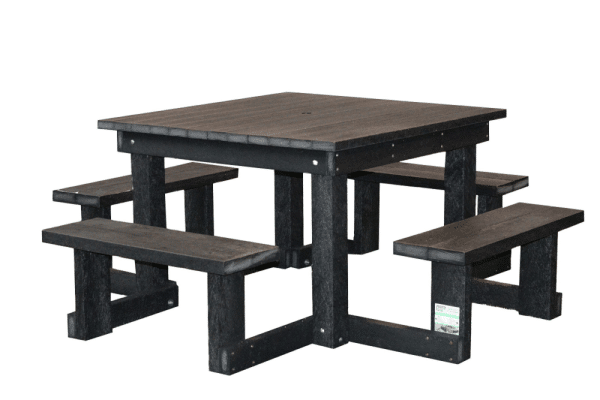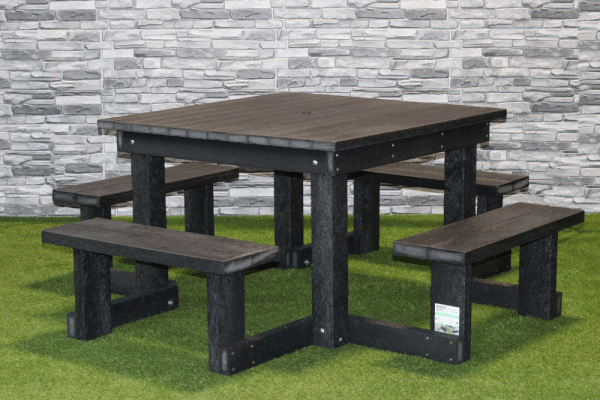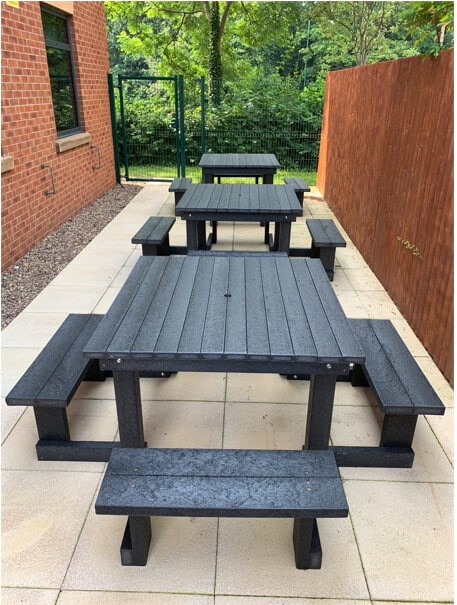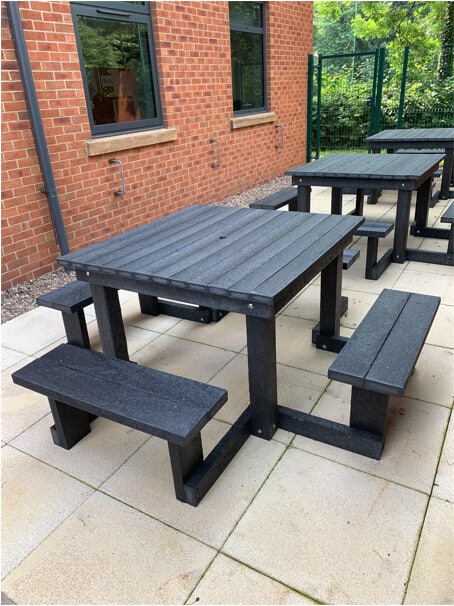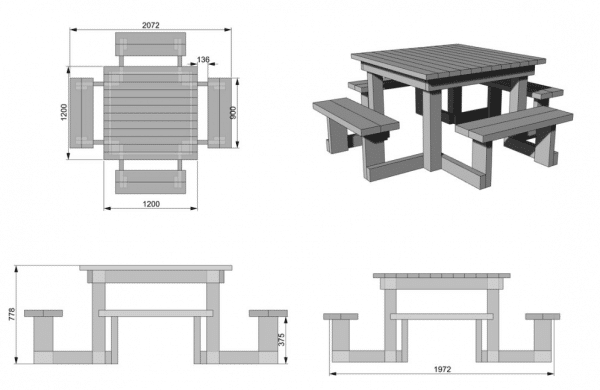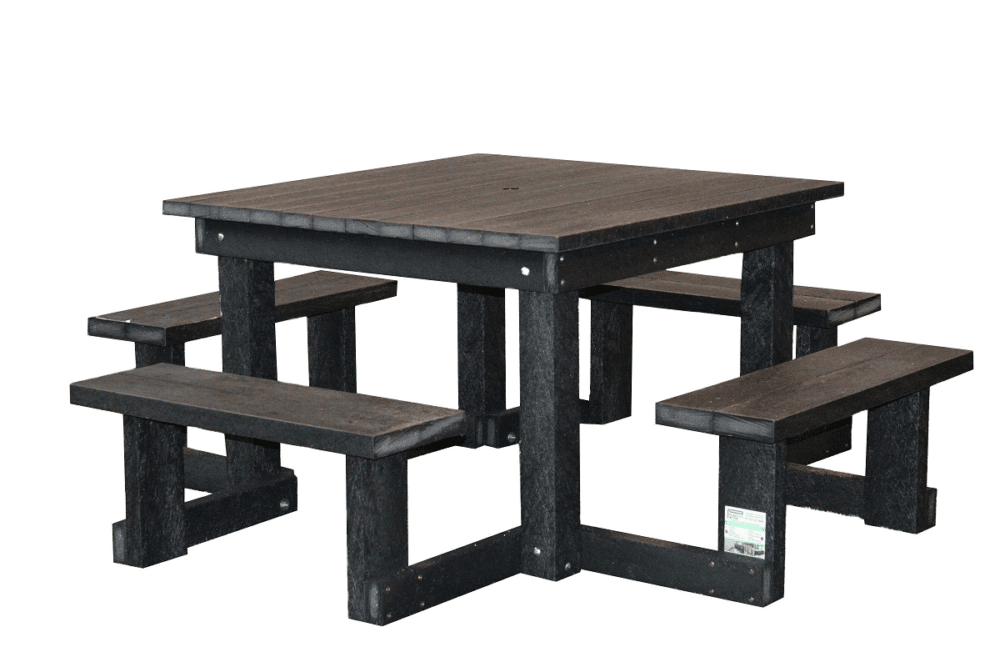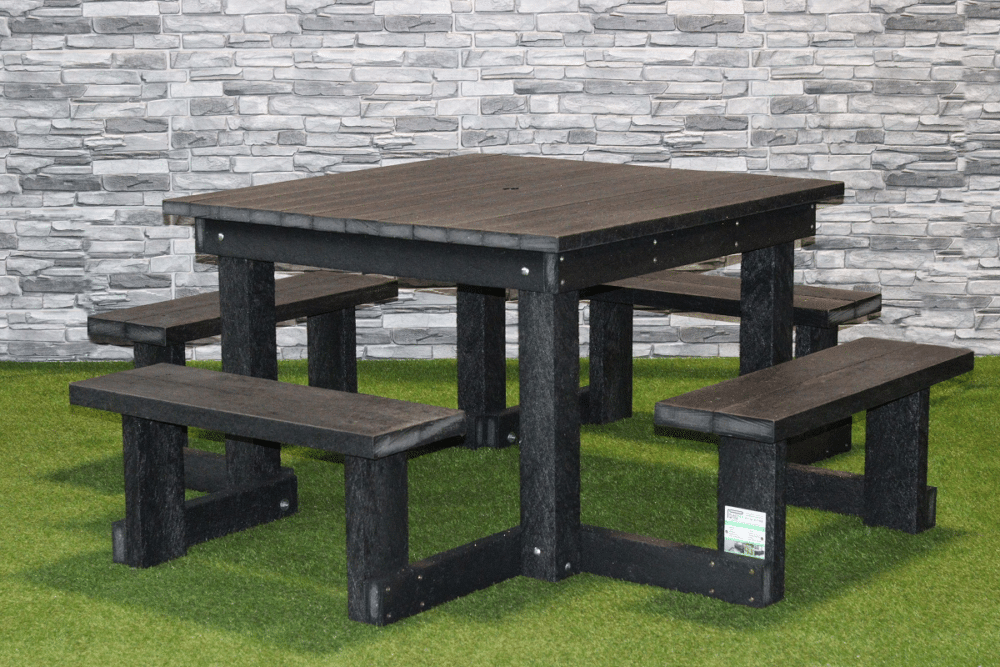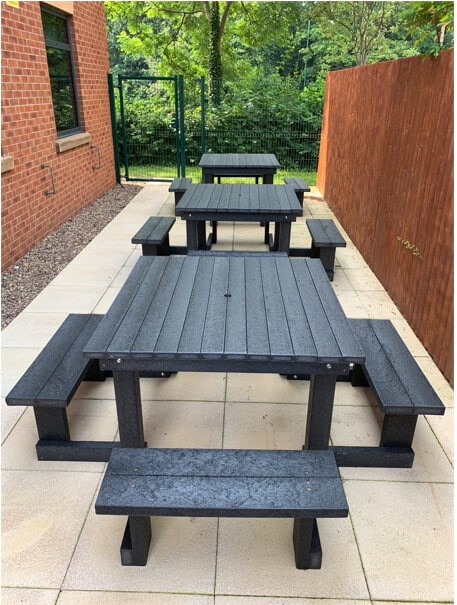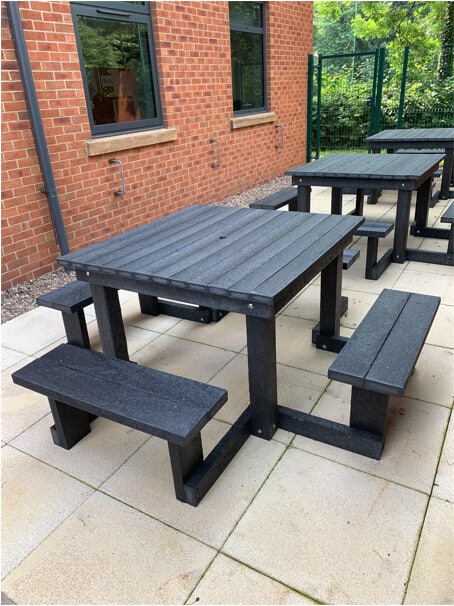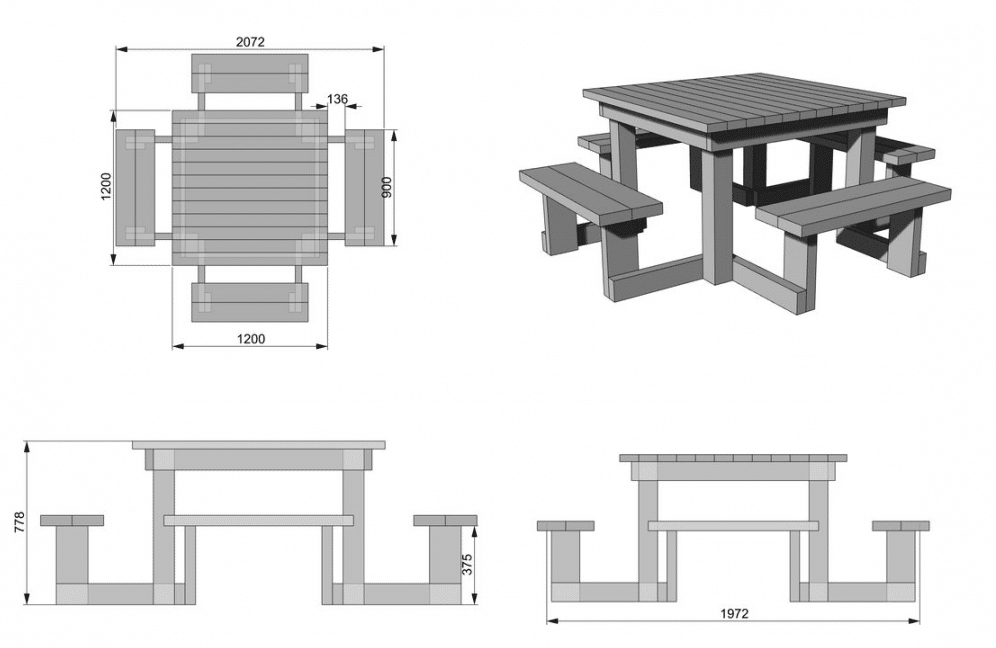 Our 8-seater square picnic table weighs in at 160kgs which means these heavy duty tables are ideal for commercial use where there will be a lot of footfall. They are popular with pubs, schools, wildlife and garden centres.
These tables are designed to be transported as cheaply as possible and come in modular form. The Square Picnic Table is also designed to be space conscious,  maximising potential for 'seating-for-eating' covers. They are also extremely economical.  The cost-benefit ratio on this table makes it a great commercial investment.
100% Weather Resistant
10 Year Component Guarantee
Made from 100% Recycled Plastic
Using Recycled Plastic Reduces Your Carbon Footprint
Manufactured in the UK
Manufacturers Estimated Environmental Impact Facts – 4000 plastic bottles or containers are used to make this product, with 112kg of carbon saved from going to landfill and 0.4 trees saved from being cut down.
| | |
| --- | --- |
| WIDTH | 2072MM |
| TABLE TOP | 1200MM |
| SEAT HEIGHT | 375MM |
| LENGTH | 2072MM |
| WEIGHT | 160KG |
Optional hard or soft ground fixings available.
Do you want us to install? We can! – Please ask for installation quote
Recycled Plastic Square Picnic Table, 2.1m
Price Includes Mainland UK Delivery
| | | | | | |
| --- | --- | --- | --- | --- | --- |
| 2 | 3 | 4 | 5 - 9 | 10 - 14 | 15 + |
| - | - | - | - | - | - |
Lead time 3-6 weeks
PLEASE NOTE
Recycled plastic is heavy!
This item is made to order. We will contact you with an estimated delivery or despatch date shortly after purchase.
When purchasing plaques, fixing kits or anchors, please note these may arrive under separate cover
The colours shown on our website should be used as a guide only and may vary slightly to those of the actual product. This is due to the technical difficulty of matching real and computer generated colours. A colour sample can be sent on request.
DELIVERY – This item will be delivered on pallets. In most instances (usually smaller pallet sizes), the delivery will be made by a truck fitted with a tailift. For items over 2m, a forklift (or a couple of able helpers) may be required to assist the driver. Responsible disposal of the (recycleable) wrapping and pallet is the responsibility of the customer.
BENEFITS OF CHOOSING RECYCLED PLASTIC
We pride ourselves on offering broad range of Recycled Plastic Furniture products
The main reasons why plastic waste is so bad for wildlife and the environment are also some of the key reasons why this increasingly popular manufacturing material is simply perfect for making Street Furniture.
Recycled Plastic Furniture is usually heavier than traditional materials, longer lasting, more robust, weatherproof, resistant to insect infestation, rotproof, sustainable, difficult to deface and vandalise and almost completely maintenance free – and as an added bonus, it is not porous, so unlike wood, it can be quickly wiped down and used after a rain shower.
Buying Recycled Plastic furniture also helps decrease the amount of plastic going to landfill and reduces demand on the world's natural resources and the need to grow, harvest or extract other raw materials!
All Recycled Plastic Furniture can be recycled again!
When purchasing Recycled Plastic Furniture from KBS Depot Ltd – we have added to the many environmental benefits, by committing to plant a new tree (via More Trees) for every customer who places an order which includes a Recycled Plastic Furniture item – So you can also be confident that your purchase has contributed to the growth of future forests around the world.