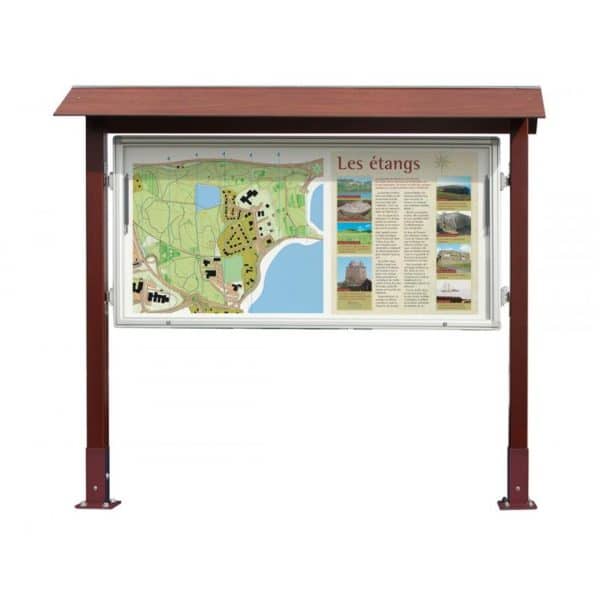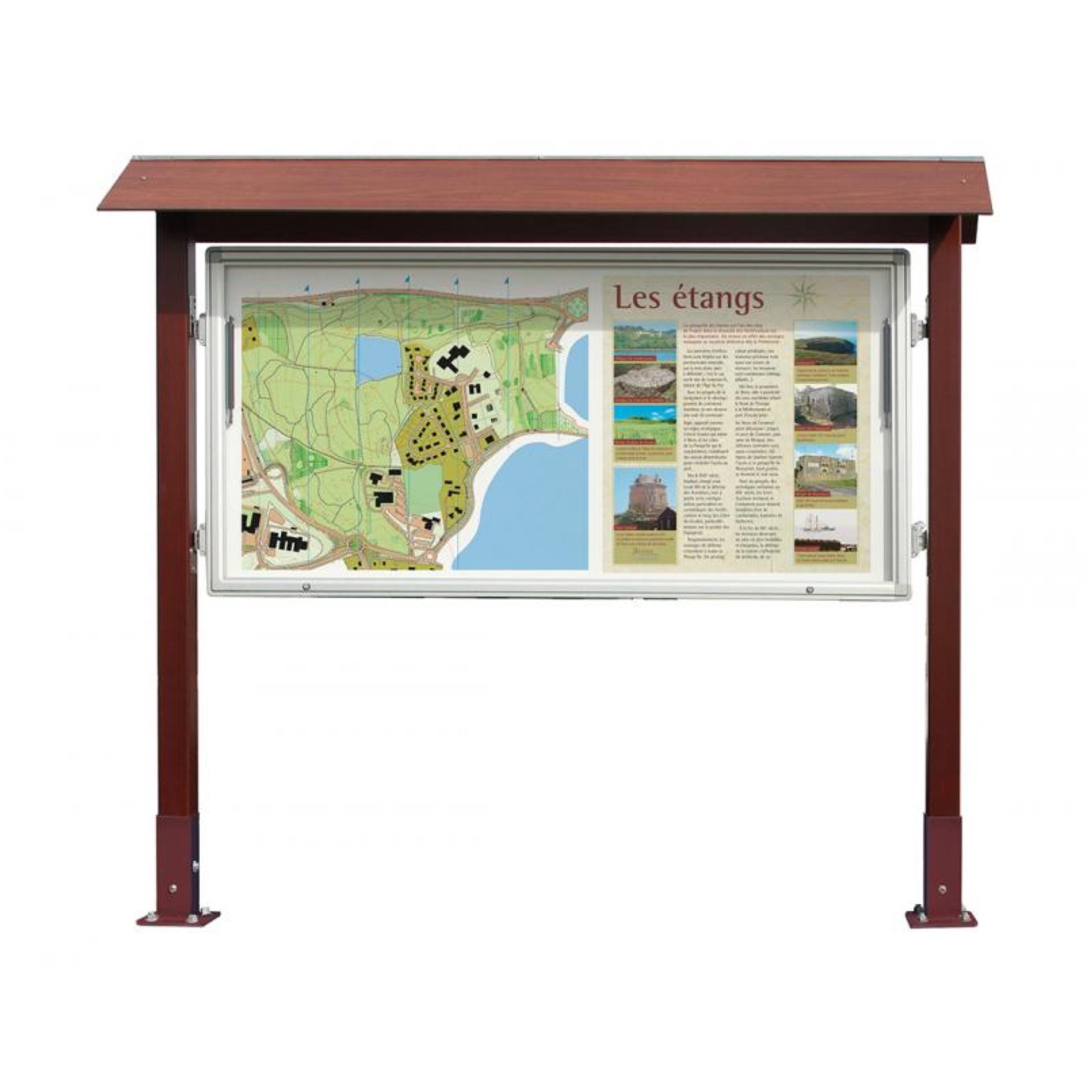 Double Sided Park Notice Board 27 x A4 – includes notice board, roof and posts
An elegant but sturdy combination of wood and aluminium to protect and display information in a discreet and natural way, with minimal maintenance.
This is a double sided notice board and is only available complete with board, roof and posts
Silver anodised notice board (with cast aluminium rounded corners) measuring 1000mm high x 2010mm wide x 75mm deep
Capable of taking up to 27 x A4 sheets per side (= total 54 sheets)
Fitted with raising single door on both sides, supported by gas struts (left and right) for easy opening and support
Glazing: 4 mm Plexichoc® – a vandal resistant toughened polycarbonate, offering excellent visibility & clarity
Tamperproof safety locks with 2 keys supplied. Please note that two locks are fitted on all raising door models – at the bottom of the frame.
Back plate finish – 1mm galvanised steel back in a white lacquered internal finish – for use with magnets.
Notices are pinned to board by magnets – 54 magnets (one per A4 sheet) are supplied with this board.
Posts are 93mm x 93mm x 2330mm high made from exotic hardwood with a mahogany stain finish.
Roof is made from 13mm thick compact high pressure laminate with a mahogany stain finish
Installation on galvanised base plates painted RAL 8012, fixing rods supplied to be concreted in
Optional Extra's:
Additional magnets (available in packs of 10).
LED ribbon lights (self assembly) – Lights and transformer are not factory fitted and will require installation to a power source by a qualified electrician in order to comply with applicable safety regulations
Park Notice Board with Roof, 27 x A4, Double sided (Options Available)
Price Includes Mainland UK Delivery.
Please choose colour and other options below if applicable.

** Bulk Pricing Available ** See below for details, or contact us.
BULK PRICE DISCOUNT CALCULATED UPON ADDING TO CART
Bulk Price Saving:
£

0.00
- Current Product Total (Excluding Options):
£

2,210.00
+VAT (Delivery Included)
2
3
4
5 - 9
10 - 14
15 +

£

2,190.00

£

2,180.00

£

2,170.00

£

2,150.00

£

2,110.00

£

2,070.00
Lead time 4-8 weeks
STANDARD EXTERNAL NOTICE BOARD FEATURES 
HINGE FREE: Wear resistant, warp proof integrated hinge
LOCKABLE: Exclusive tamper-proof safety lock, with hidden latch (supplied with 2 keys)
FULL DISPLAY: 100 % of the display surface visible (lock mounted in the frame, not the glazing)
STRENGTH: Robust profile and available in 4mm anti-vandal Plexichoc™ window
PRACTICAL: Doors are easily replaceable in case of major vandalism
WATERPROOF: Elastomer seal and anti-condensation vents
WARRANTY: 5 years against manufacturing defects, paint finish, welding and weather proofing – 10 years against perforation