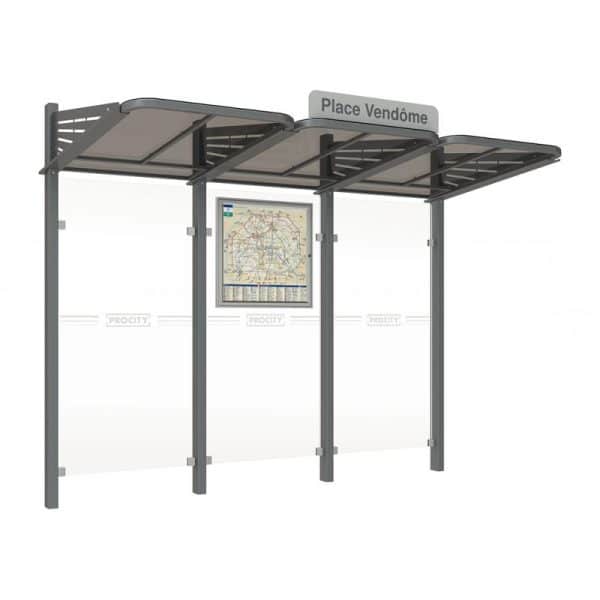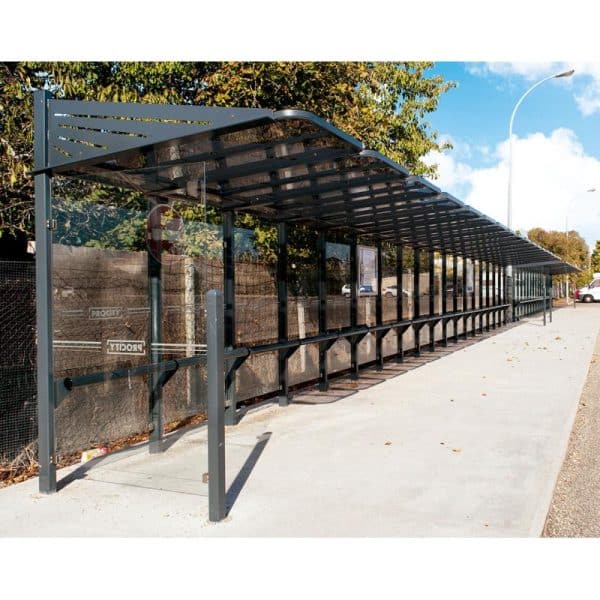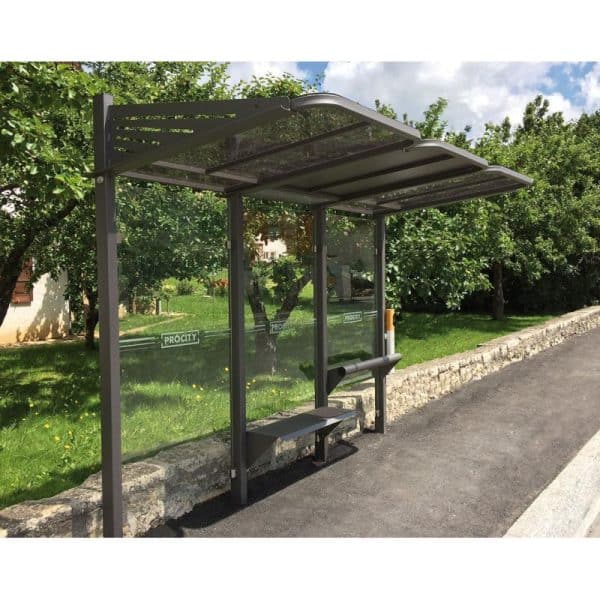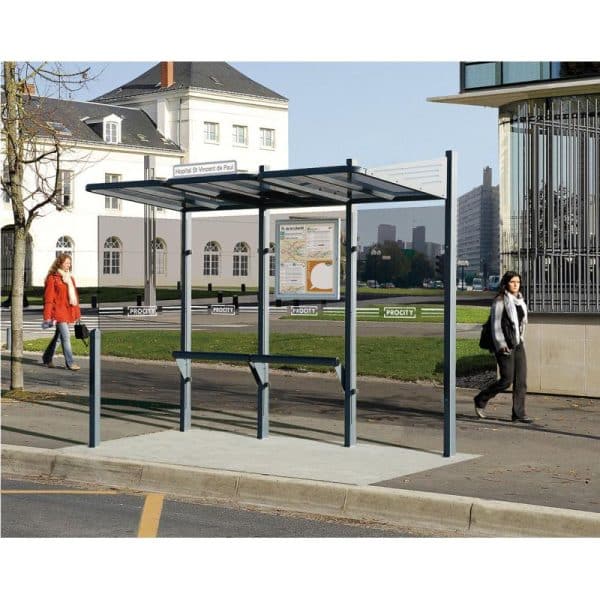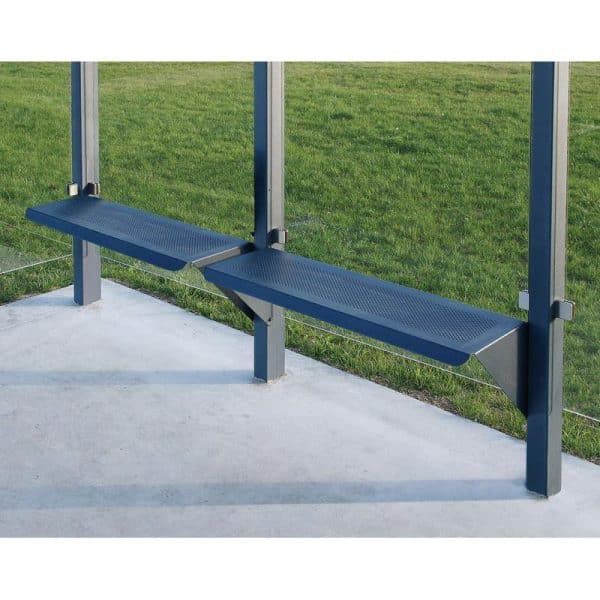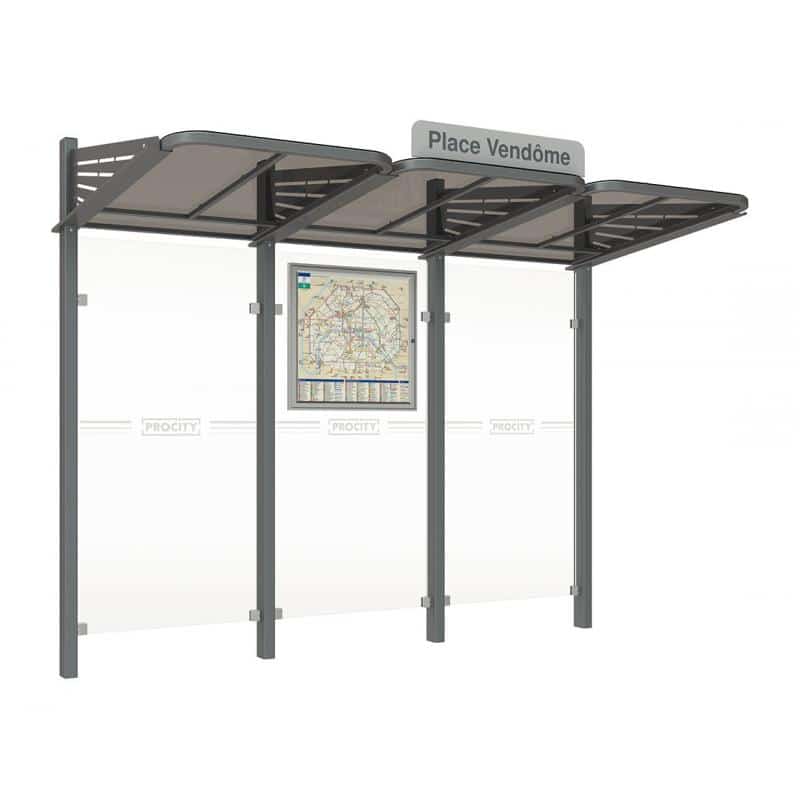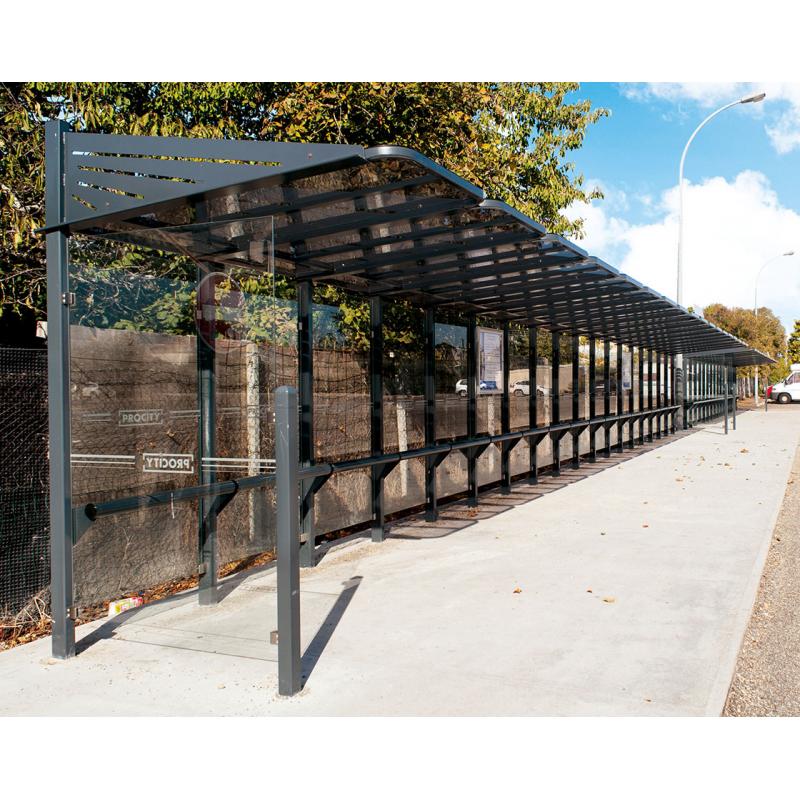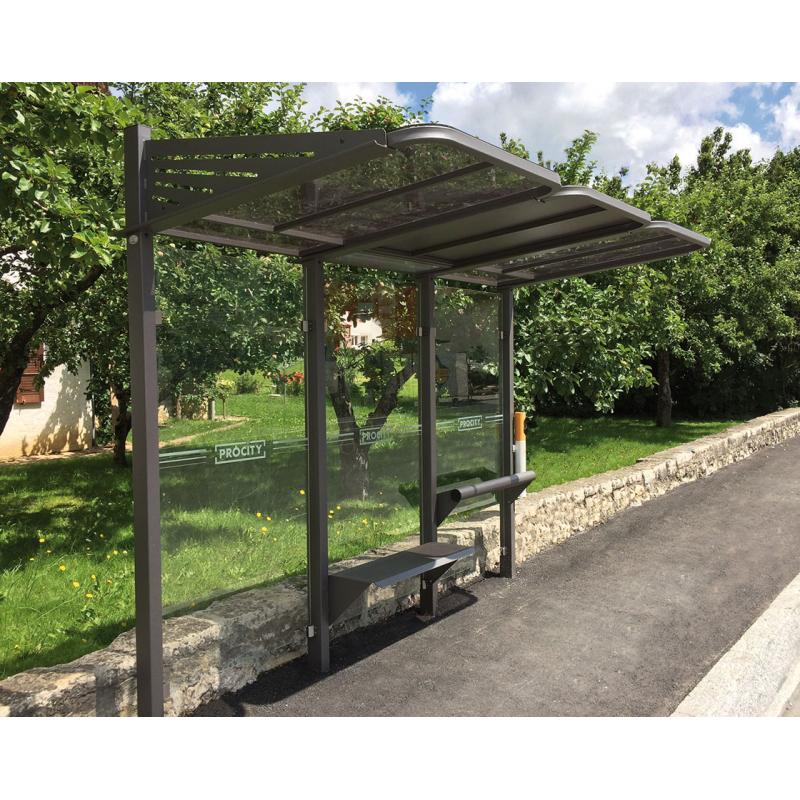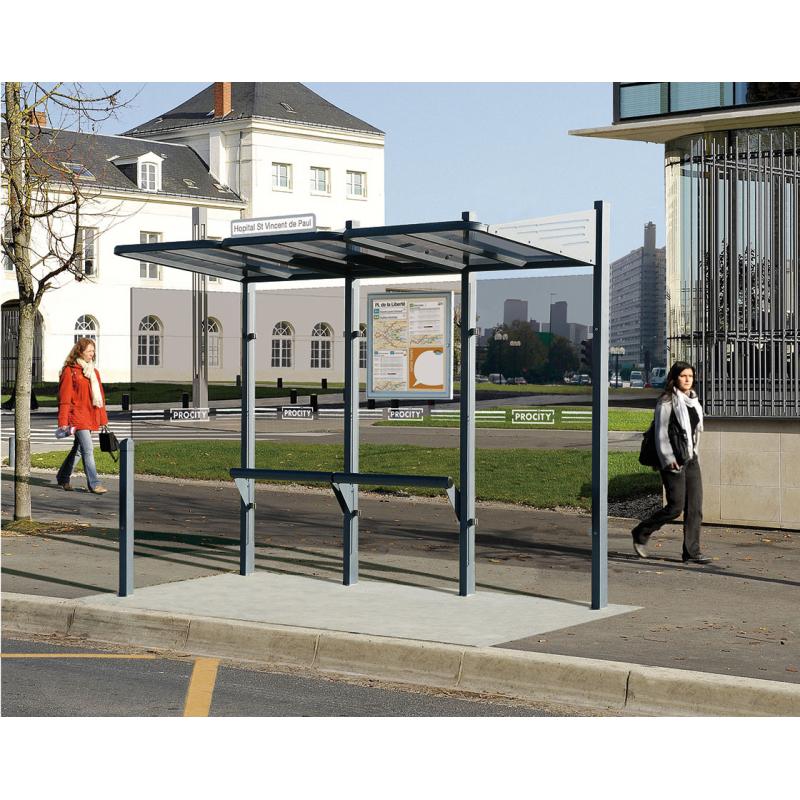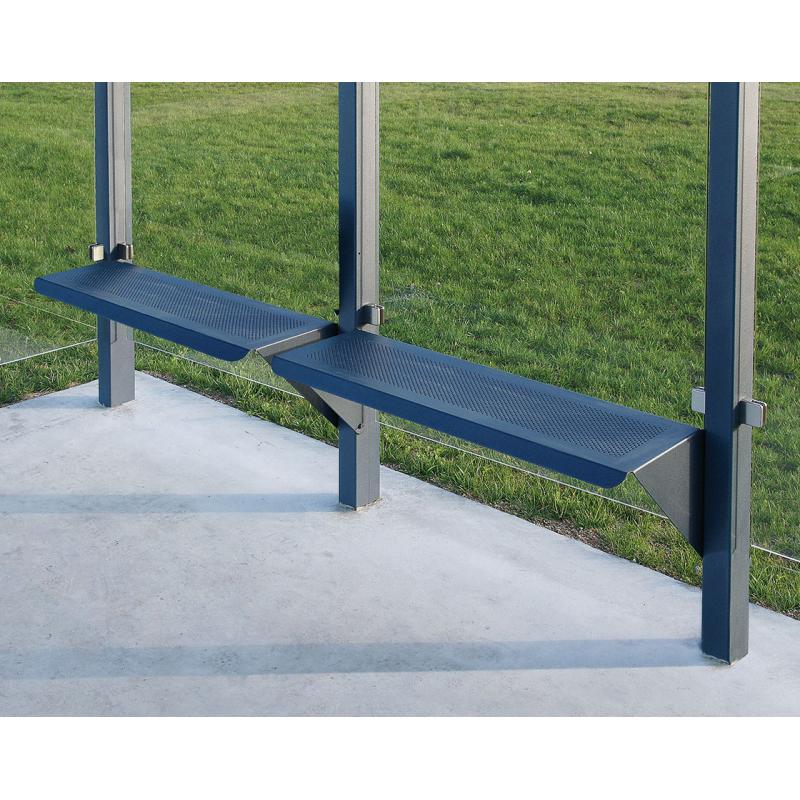 Thanks to its elegance and modular assembly, the Conviviale bus shelter is a perfect fit for any location and with its minimum cantilever style footprint, it reduces pavement intrusion/obstruction.
The standard version is available in length 3000mm and equipped with a timetable case 750 x 750mm (6 A4).
Each extension to the base module adds 1000mm (up to 3 extensions are shown as options. Please contact us for pricing on larger units.
Configuration combinations / options:
• Advertising space – A double-sided light box or poster case (display size H1710 x 1160mm or H1750 x 1200mm)
• One or two side cladding panels
Rear cladding is 8mm Securit® safety glass.
Options: Bench, perch seat, signage flag, LED lighting kit powered by mains power source.
Base unit dimensions; 3000mm wide x 1500mm depth
100 x 60mm steel verticals
Roof structure in 40 x 40mm steel tubes
3mm sheet steel roof supports
Roof glazing in smoked UV inhibited 6mm PMMA
Cladding attachments: pinch-grip system made from Zamak alloy with brushed finish
Zinc primed and finished in your choice of our standard RAL colours.
Installation: Concreted directly into the ground.
This item is from the CONVIVIALE street furniture collection by Procity.
The CONVIVIALE range offers a stylish and themed design across a wide range of street furniture, with finishes in All steel. These items can be used on their own, or configured together as part of a wider design project, to create a stylish and contempary outdoor space, to meet, talk and relax.  The CONVIVIALE range includes many different items (including; seats, benches, litter bins, bollards, railings, bicycle racks & shelters, pay points shelters and even bus stops).
View the full CONVIVIALE street furniture collection here
Conviviale, 3m Glass cladded Bus Shelter, with 1m extension options (Options Available)
Price Includes Mainland UK Delivery.
Please choose colour and other options below if applicable.

** Bulk Pricing Available ** See below for details, or contact us.
BULK PRICE DISCOUNT CALCULATED UPON ADDING TO CART
Bulk Price Saving:
£

0.00
- Current Product Total (Excluding Options):
£

3,158.00
+VAT (Delivery Included)
Lead time 8-10 weeks
Procity – Manufacturing 
Shelters – All the 'off the shelf' shelter products we offer (including walkways, bus shelters, smoking shelters and Bicycle shelters) are manufactured to the very highest standards by Procity, who are EN 1090 certified manufacturers for products constructed from Aluminium and Steel. This certification ensures all products fully comply with stringent EU standards in terms of quality and safety.
100% of steel, aluminium and packaging is recycleable
100% of production waste (oil, paint, etc…) is collected and processed by specialised waste disposal.
Whether zinc primed and painted or galvanized and painted, the paint quality of products is tested in terms of impact resistance, adhesion and paint thickness.
Procity also hold the right to use the PEFC mark, certifying that any timber used in the manufacture of products comes from sustainably managed forests and controlled sources.
All products manufactured by Procity have a 5 year warranty* which includes..
The conformity and origin of raw materials
The precision of cuts, bends and assembly
The quality of the welds
The waterproofness of outdoor noticeboards
The quality of paint finish and their anti-UV resistance.

All products that have undergone a hot dip galvanising or anodising process have a 10 year warranty on corrosion. 

Phosphate treated and painted products have a 2 year warranty on corrosion.
Zinc primed & painted products have a 5 year warranty**
Since timber is a living material, the warranty of products containing wood is limited to 2 years.
* excludes saline environments (within 5km of maritime locations, besides heavily salted roads or other strongly corrosive environments…)
** where applicable – please contact us for a quote on upgrading from a Zinc primed and painted finish to galvanised and painted finish, for maximum corrosion warranty.
Additional information
| | |
| --- | --- |
| Colour | Procity Grey, White, Blue, Light Red, Dark Red, Black, Silver, Green, Brown, Corten Effect |
| Side Panels | No Side Panel, Panel on one Side, Two Side Panels, One Side Panel and 2000 Poster Case, One Side Panel and Lightbox Case |